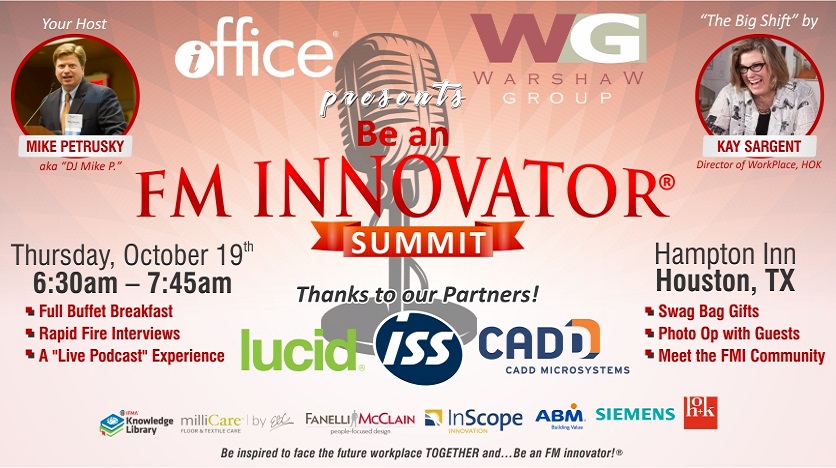 EVENT ANNOUNCEMENT: "The FM Innovator Summit" with Kay Sargent | 10/19/17 | Houston, TX
August 18, 2017
Overview
"The FM Innovator Summit" will take place during IFMA's World Workplace in Houston, TX at 6:30 am on October 19, 2017!
Registration is closed. - FULL EVENT - Thank you, FM innovators!
Registered Guests: Please remember to print & bring your ticket to the event. Barcode scan is required for admission.
Learn more: https://www.fminnovatorsummit.com/
A full BREAKFAST BUFFET served
An inspirational "LIVE PODCAST" experience
Keynote by KAY SARGENT of HOK
For the first time ever, "The FM Innovator Nation" will gather during IFMA's World Workplace in Houston, TX! With a mission to inspire and motivate our FM community, we'll help build partnerships that will allow us to face the workplace evolution together! Our belief is that a true "culture of collaboration" is required to help industry-professionals innovate and adapt in order to keep pace with the changing marketplace. Your host, Mike Petrusky, will direct participants through a "live podcast experience" as he talks with FM industry-leaders about workplace trends, challenges, and the future of the built environment. A full, hot breakfast will be served as we focus on our common human experiences and we'll be encouraged to get outside of our comfort zones! Kay Sargent of HOK will deliver a keynote address on "The Big Shift" taking place in the transformational workplace of tomorrow. If you have a passion to elevate the FM profession, please join us, and…Be an FM innovator!®
A LIMITED NUMBER OF EARLY BIRD TICKETS ARE AVAILABLE - REGISTER NOW!
OUR GIFT TO YOU - A FREE BOOK WITH PAID REGISTRATION (while supplies last):
Choice of "The Employee Experience Advantage" by Jacob Morgan OR "The Healthy Workplace" by Leigh Stringer.
Register here: http://events.eventzilla.net/e/the-fm-innovator-summit--houston-17-2138931005
THANKS TO OUR PARTNERS FOR MAKING THIS EVENT POSSIBLE!
iOFFICE: https://www.iofficecorp.com/
Intellis (formerly Warshaw Group): http://www.intellis.io
Uptake: https://www.uptake.com/
Lucid: https://lucidconnects.com/
ISS: https://www.issworld.com/
CADD Microsystems: http://www.caddmicrosystems.com/
Staples Business Advantage: https://www.staplesadvantage.com/
IFMA's Knowledge Library: http://community.ifma.org/knowledge_library/
Millicare by EBC Carpet Services: http://www.ebcusa.com/
Fanelli McClain: http://www.fanellimcclain.com/
InScope Innovation: http://inscopeinnovation.com/
ABM: https://www.abm.com/
Siemens: https://www.siemens.com/us/en/home.html
HOK: http://www.hok.com/